Jez Watson
CD Automation help McLaren to the Finish
Manufacturers of cars as high end as McLaren need every part of their process to be as close to perfect as humanly possible.  Small glitches and delays can have impacts on turnaround times and quality that are completely unacceptable.  Therefore, when McLaren realised that they were having trouble with a particular paint colour that was becoming very popular with customers which was taking too long to dry and holding up production, they needed a reliable and long lasting solution.
Customers can choose bespoke paint, trim and colour options as McLaren's team will match anything they want and produce flawless work 100% of the time and turn projects around within very tight deadlines.  The colour taking too long to dry was being chosen by customers often enough that it was threatening to hold up the whole process of putting together these very expensive and beautifully made cars.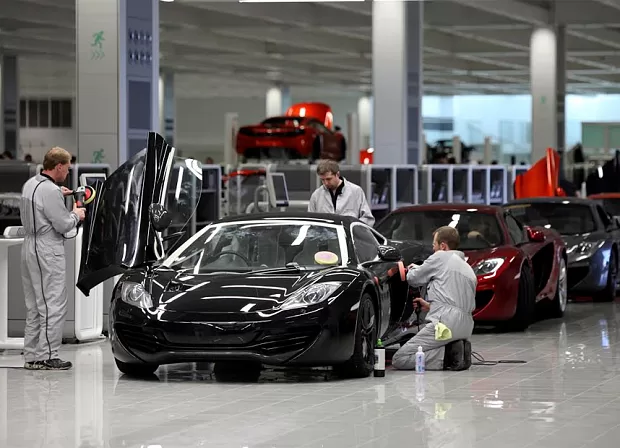 The Solution
So, they asked Panther Engineering for a solution to accelerate the drying time.  They designed a bespoke package that provided additional heating and force drying applications using thyristor controllers supplied by CD Automation. This comprised 3 units of the Three Phase REVO S Thyristor (SCR) Power Controller each suitable to switch 210 Amps at 480Vac, resistance type load and utilizing Burst Firing technique.  All of these were protected by extra-rapid quick-blow semi-conductor fuses. A compact and self-contained unit, the REVO-S offered the exceptional reliability and low maintenance required by McLaren.
When asked why CD Automation's products were so appropriate for McLaren's needs, Jez Watson stated that, "Thyristor control is the most economic and reliable means of controlling large amounts of electrical power. It results in reduced waste and energy consumption but more importantly, improves process consistency and reliability in extremely harsh environments such as McLaren's paint shop."
Temperature control was a crucial factor in the drying of this special paint finish requiring accuracy to within +/-1 degree to produce the desired result and the REVO-S eliminated the problem, speeded up production and improved efficiencies for McLaren.
Panther Engineering Managing Director, Duncan Roberts, had worked with CD Automation before and chose us to help him with this project because, "Maintaining productivity throughout the installation was vital for McLaren and as such we needed to be 100% confident of quality and reliability."  He knew that we could deliver a quality product on time and that was essential as they needed to fit the paint drying system without holding up production with a window of just one week scheduled to make the final changeover.
Panther Engineering received positive feedback from McLaren as the company quickly experienced significant improvement in their daily production runs which far exceeded expectations ensuring each customer got the finished result they rightly expect.  CD Automation helped to make this possible.  Call us now on 01323 811100 to see what we can do for you.
The Company
CD Automation's range of thyristor power controllers, and a partner program of supporting products that includes temperature controllers, power line filters and network power meters, provides a complete solution to the thermal processing industry, delivering both exact heat regulation and accurate temperature and power reporting.
The REVO family of SCR power controllers meet the toughest design challenges and provide efficient, reliable and precise control of electrical heating, which is essential in quality industrial thermal processes including infrared drying, glass manufacturing, industrial furnaces, heat treatment, melting, drying and forming.
Our range of SCR power controllers offer unrivalled flexibility and performance, can help to improve product uniformity and quality, optimizes energy consumption, minimizes waste and probably, most importantly, machine breakdown.
Our products can be used as stand-alone units, connected to a bus system or used in combination with all PLCs, or computer systems.
Talk to our friendly support team today, we'd love to try and help improve your process, telephone 01323 811100 or email us here.