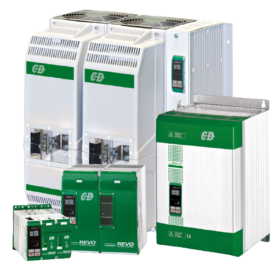 If it's your responsibility to minimise downtime and maximise the efficiency of your electrical heating process or machine, then you're in the right place.
Losing production time for any reason is no fun so the equipment you use must be robust and reliable. It must also be simple to install and use. Arguably it must also offer functionality that can save you time and money. Let us help you find the right product solution for your application. Accurately and reliably regulate power for optimal control and energy consumption with a CD Automation power control unit. Call our support team today on 01323 811100 for friendly advice and guidance. We're here to help!
Did you know that using a Thyristor (SCR) Power Controller (Stack) or a Solid State Relay from CD Automation can help eliminate downtime by a whopping 95% and reduce your overall purchase cost by up to 90% over the product lifetime compared to using a traditional mechanical contactor.
Solid State Relay – REVO S

Designed to replace contactors, REVO-S solid state relays are suitable for currents up to 800A and voltages up to 690Vac. Available in single and 3 phase formats.

Helps reduce machine…

Read more
---
Discontinued Products (but don't panic!)
The following products may well have been discontinued, BUT, we still have you covered.  If any of the products you require are listed below, simply click through and you will be offered an alternative product.  Can't get much easier than that 🙂
---
Our guide to Thyristors
Explore our resources below to discover more about Thyristor Power Controllers and how they can help your company to improve machine efficiency and decrease downtime!
Kulbinder Singh
2022-02-17
From first contact with Jeremy Morby at… From first contact with Jeremy Morby at CD Automation my query was handle in a efficient and professional manner, was kept update with progress of order to completion. will use again.
Craig Sanders / Induced Energy
2021-11-05
CD Automation are our go to business CD Automation are our go to business for a number of parts we buy. They are an exceptional company to do business with, from their excellent customer service to their brilliant products.
Richard Wilson
2020-12-09
Excellent customer service Excellent customer service, product knowledge and delivery date better than expected. Thank you. Keep up the great work.
Helpful technical staff Helpful technical staff, great first experience. Thank you
Very helpful Very helpful , eager to please and get the job done, Thanks Jez
Great communication Great communication at all stages of the ordering and delivery process. A very organised and professional company making everything much easier. Would recommend
Really Quick response time and happy to… Really Quick response time and happy to help. would recommend.
Good efficient service Good efficient service, arrived as promised on time
All good thanks All good thanks
great response from CD automation great response from CD automation, technical knowledge on the products was top class and fast delivery of the necessary spares to get me back up and running.