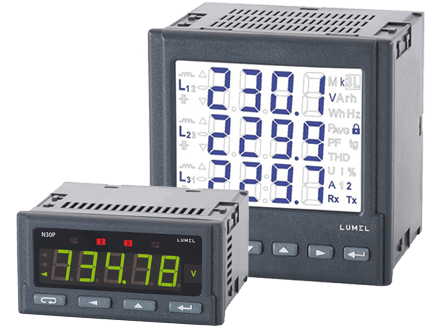 Power meters that are capable of displaying electrical and machine parameters suitable for single (1PH) and three phase (3PH) applications.
3 Phase Power Meter – ND10

Panel mounted 3 phase power monitoring network meter, the ND10 can display indirect measurements in 3 phase 4 wire balanced and unbalanced systems and THD factors for currents and…

Read more

3 Phase Power Meter – ND30

The ND30 meter is a programmable power network meter with Ethernet designed for the measurement of single phase 2-wire and 3 phase 3 and 4-wire in balanced or unbalanced…

Read more
Richard Wilson
2020-12-09
Excellent customer service, product knowledge and delivery date better than expected. Thank you. Keep up the great work.
Helpful technical staff, great first experience. Thank you
Very helpful , eager to please and get the job done, Thanks Jez
Great communication at all stages of the ordering and delivery process. A very organised and professional company making everything much easier. Would recommend
Really Quick response time and happy to help. would recommend.
Good efficient service, arrived as promised on time
great response from CD automation, technical knowledge on the products was top class and fast delivery of the necessary spares to get me back up and running.
Could not fault the company, Delivered when they said and kept me updated via email throughout my order. Will be using again.
Mr Eric Knight
2019-12-03
Guided us to the correct product specification and were exceptionally helpful.