Jez Watson
Achieving Perfect Production.
Perfect Production is very simply; manufacturing only good parts, as fast as possible and with no downtime. The goal of any production line is to achieve full productive time and reduce the most common causes of equipment-based productivity losses, often called the 6 Big Losses.
Created at the Japanese Institute of Plant Maintenance (JIPM), it aimed to categorize equipment-based losses and maximise the overall equipment effectiveness (OEE). The six big losses are split into three seperate categories; availability, performance and quality. Reducing these losses will give greater efficiency on the factory floor.
The Six Big Losses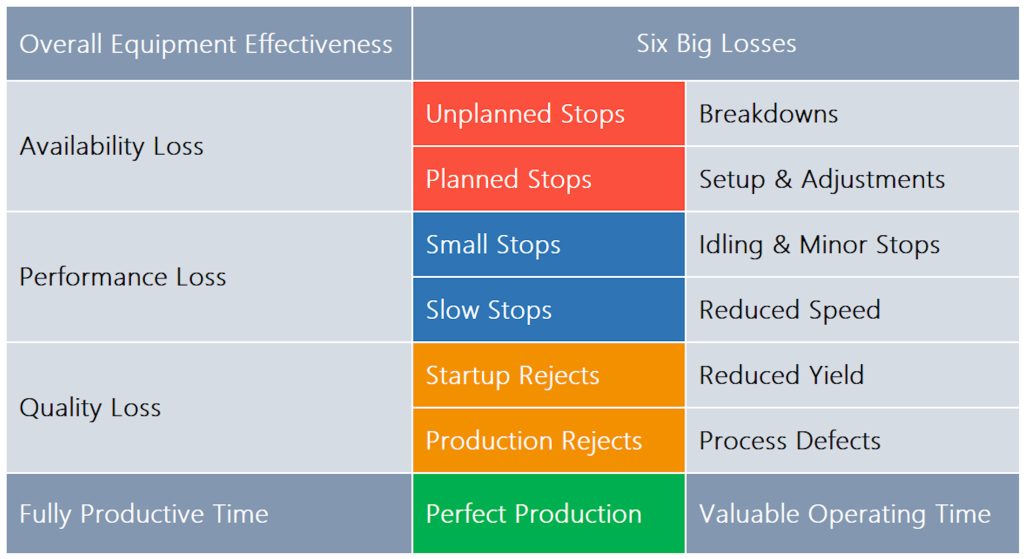 Availability losses
1. Equipment failure:
Unplanned downtime can be disastrous and generally the most expensive loss to production time. This can be due to machine breakdowns, tooling failure or emergency maintenance stops.
The elimination of unplanned Downtime is critical if we want to improve OEE (Overall Equipment Effectiveness). It goes without saying that if manufacturing is down, no other OEE factors need attention. It's important to know how much, and when Downtime happens to get a clear picture, referred to as the Reasons. Once you have data around Downtime and the Reasons, you can start to see the biggest contributing factors and work your way down.
2. Setup and adjustments:
The second big loss is the result of downtime and is the need to re-program, adjust and set-up replacement components, often called changeover.
Changeover is the time between the last correct unit until the first correct unit produced. This includes major adjustments to get an acceptable product result that meets quality standards.
So how can technology help to minimise availability losses?
The primary reason for loss of production time is from machine breakdowns. It is therefore important to use components and technology that have long life spans and offer a robust solution. Components that need regular replacement are not going to help increase production time. It will be necessary to evaluate the initial cost against the lifetime cost of the component and then the total cost of machine downtime. If a more cost-effective solution is found, the component should be swapped out as soon as the opportunity allows, especially if it results in reduced machine downtime.
It's also helpful to have instant notification of any failure, to minimise loss of production. Replacing the failed part (changeover) needs to be quick with the minimum of set-up and adjustment.
IoT connected devices can help to implement preemptive rather than post-hoc maintenance, helping to minimise downtime and improve the effectiveness of changeovers and adjustments. Key components kept as spares should always be considered for critical machine processes as this avoids the obvious delays in sourcing a replacement part that can take many weeks to arrive. The ability to 'copy & paste' programs from the faulty unit to the new unit will also help to reduce set-up and adjustments.
Performance losses
3. Idling and minor stops:
Also known as small stops, idling and minor stops account for short periods of time when the equipment stops operating. They can develop material jams, product flow obstructions, wrong settings or cleaning. These issues do not normally require maintenance personnel and can be resolved in a few minutes by the operator. Minor stops on there on do not result in significant downtime. You will need to watch this situation to avoid becoming a normalised part of the production process.
4. Reduced speed:
In this case, equipment runs more slowly than the Ideal Cycle Time – the estimated minimal time required to produce a part. Reduced speed can be due to poorly maintained or slow equipment, substandard materials that damage the equipment or inexperienced operators running the equipment.
Micro Stops and Reduced Speed is one of the most difficult parts of the Six Big Losses to measure and but a Cycle time analysis can usually handle this type of loss. In most manufacturing processes you need to implement automatic data gathering to measure the cycle time. By comparing actual cycles against an Ideal Cycle time, you can calculate the loss due to the change in speed. The reasons for Micro stops and Reduced speed are often very different and why you should measure them separately.
Quality losses
5. Process defects and 6. Reduced yield:
Process defects occur during normal production and can be caused by wrong equipment settings, operator errors or poor equipment handling. Reduced yield accounts for defective parts produced in the warm-up stage of production. They can be caused by badly executed changeovers, wrong settings, or equipment generating waste after startup.
Technology can help management to gain real-time visibility over quality losses. Analysing data captured on the shop floor can help to identify the root causes and communicate with the workers the required corrective actions.
Improving the production process by looking to reduce the temperature operating band is one obvious area to help reduce defects and improve product yield.
Can we help you improve your machine efficiency & minimise downtime?
CD Automation create product solutions that solve many of today's machine frustrations. If you are using single phase, or 3 phase, to power your electrical process, whether it's a simple industrial oven, a multi-zone plastic extrusion line, or a complex semiconductor processing plant, then we can help. Our comprehensive range of quality thyristor (SCR) power controllers, EMI power line filters, power network meters, and temperature control equipment offer the latest technology and functionality to improve your process and production line.
Contact our friendly support advisors on 01323 811100 or support@cdautomation.co.uk, or browse our website for ideas.