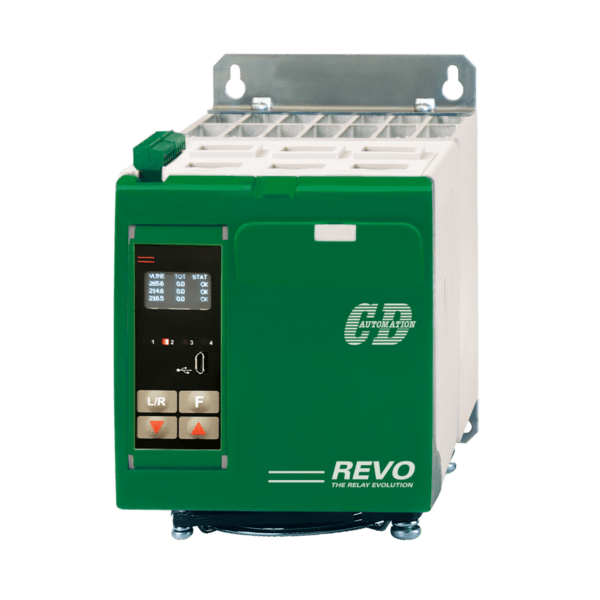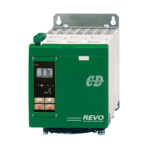 Power Optimisation Controller – REVO PB
NEW REVO PB gives you 3 independent one phase controllers in a single package allowing you to optimise your electrical heating system & reduce your energy costs.
Reduces peaks in electricity supply & noise in your system
Optimisation algorithm keeps power demand constant
Process data available 24/7 via popular fieldbus systems
3 independent power controllers in one compact package
Overview
Technical Specs
Documents & Manuals
FAQs
Description
Overview
REVO-PB gives you 3x independent single phase power controllers in one package with the ability to utilise optimisation software to reduce your ongoing electricity supply costs.
Designed specifically for multi-zone industrial applications, the REVO-PB Power Optimisation Controller will also extend the useful life of components such as power units and cabling. It achieves this by avoiding electronic component stress as a direct result of the balanced load and decreased waveform distortion that results in a power factor close to 1.

Benefits
Cost of energy used is drastically reduced automatically with the use of the Power Optimisation Algorithm
Results show a power factor near to 1 (the perfect situation), low waveform distortion & decreased harmonic component.
Eliminates unregulated power peaks keeping you within your energy supply contract.
Connect seamlessly with your management software 24/7 with the most popular Fieldbus systems.
Connect multiple units for balanced control of all three phases.
Easily configure and setup the unit with free simple and intuitive software.
Ready for Industry 4.0
Features
Designed for normal and short wave infrared load types.
Available in single (phase to phase or phase to neutral) configurations.
Firing modes include Half Cycle and Single Cycle.
Control through RS485 RTU communications (or fieldbus systems).
Available in 4 amp sizes 35A, 50A 75A & 90A and 2 voltage sizes, up to 480V and up to 600Vac.
Plug and play PC configuration software
Real character organic LED display intuitively provides setup and process data
REVO PB Power Network with 3 channels
A basic system consists of a single three-channel module, each having the same single-phase connection. Using at least three REVO PB modules for a total of 9 power channels you can balance all three phases. For example: 3x Phase R to Phase S Channels; 3x Phase S to Phase T channels and 3x Phase R to Phase T channels.
At every channel/zone point you can connect a single phase load with a maximum 35A / 50A / 75A / 90A with a connection Phase to Phase or Phase to Neutral.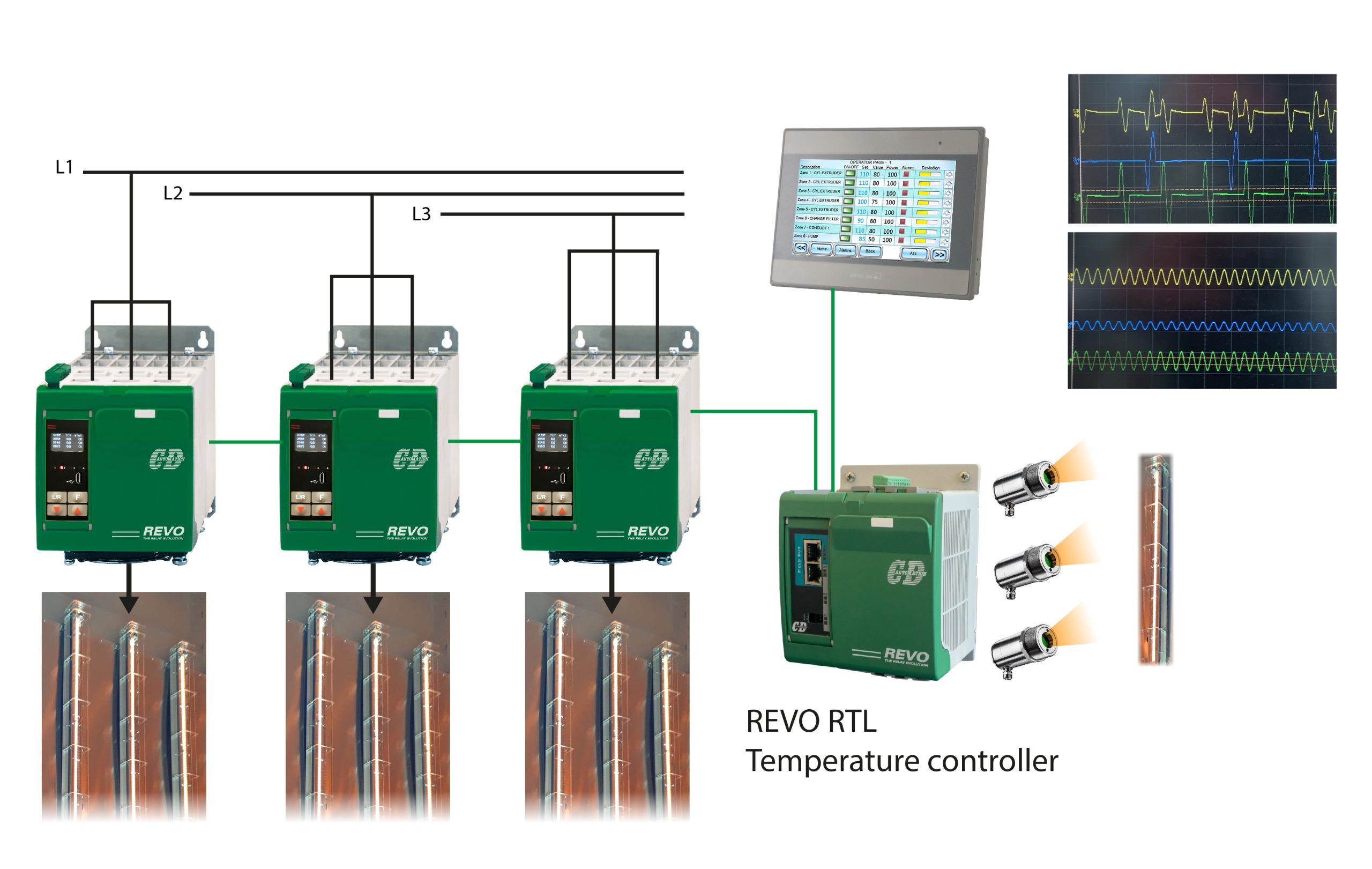 Ready for Industry 4.0
We choose Modbus RTU as the standard communication protocol on our units due to the great ease of interfacing with other industrial equipment such as HMI operator panels, PLCs, industrial PCs and other units present on the system as in most cases are already equipped with this communication standard.
Using the TU-RS termination unit you can connect the REVO-PB with some of the most common field bus systems including PROFINET, PROFIBUS DP, EtherNet IP & # x2122 and Modbus TCP.
Each unit is supplied as an easy to install plug and play device, helping you get up and running as quickly as possible.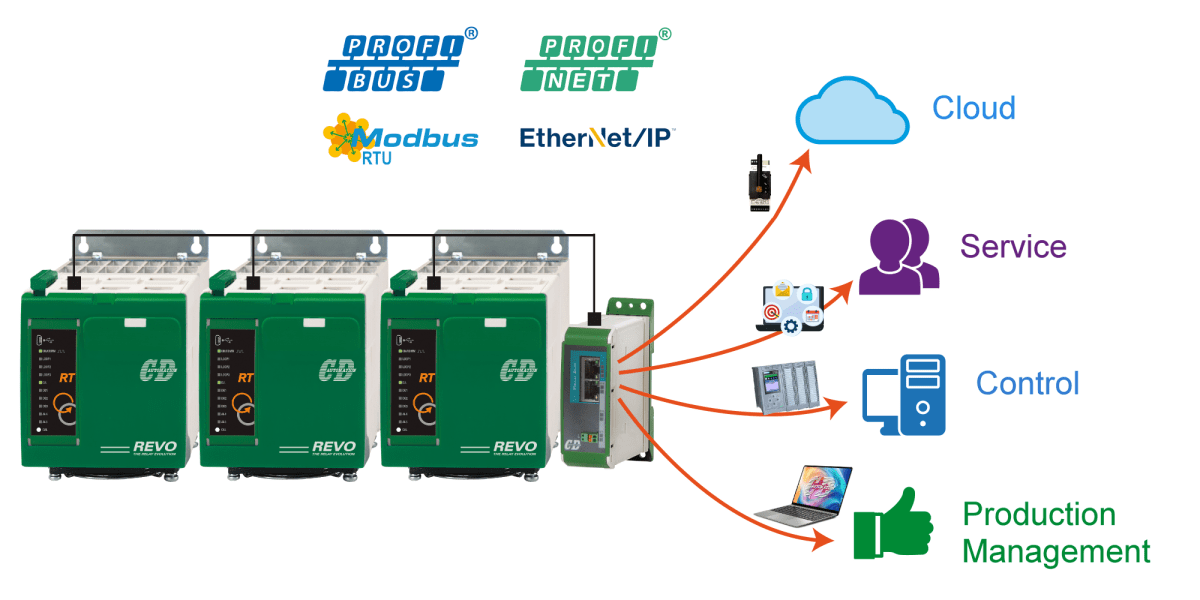 Resources
Suitable for Load Types
Normal Resistance
Short Wave Infrared Lamps (SWIR)
Optimisation of Energy
Poor management and the addition of unsynchronised loads can lead to an increase in the generated harmonic component (THD). This effect increases losses, generates noise and can generate overheating of power cables.
Even by using Zero Cross firing and a non-continuous operation, the harmonic components can reach critical levels.
Thanks to its control strategy and the management & distribution of power throughout the multi-zone loads, REVO PB keeps the Power Factor value close to 1 (a near perfect value).
A high Power Factor, a low waveform distortion and a decrease in harmonic components, will lead to a reduction in the cost of energy used.
| | |
| --- | --- |
| Product Name | Thyristor Power Controller - REVO-PB |
| Ideal For | Normal resistance and short wave infrared lamp loads |
| Load Type | Single Phase (phase to phase or phase to neutral) |
| Controlled Phases | 1 |
| Current Size | 35A, 50A, 75A and 90A |
| Voltage Power Supply | From 24V to 480Vac (Standard) or 600V as option |
| Firing Range | Half Cycle (HC) and Single Cycle (SC) |
| Input Signal | Via RS485 RTU Communications |
| Communication | Modbus RTU as standard, Profibus DP, ProfiNet IO or Ethernet IP as option |
| Feedback Type | Power (VxI) or Open loop |
| Options | Heater Break Alarm and Display as standard |
| Configuration Software | Yes |
| Approvals | EMC approved |
| Altitude | Over 1000m of altitude reduce the nominal current of 2% for each 100m |
| Auxiliary Voltage Supply | 24Vdc |
| Heater Break Alarm | To diagnose partial or total load failure with automatic setup, relay alarm output and LED indication |
| Voltage Frequency | Automatically from 47 to 70 Hz |
| Humidity | From 5 to 95% but without condensation or surface ice |
| Mounting | DIN-rail & Screw mounting |
| Panel Sealing | IP20 |
| Storage Temperature | -25 °C to 50 °C Max |