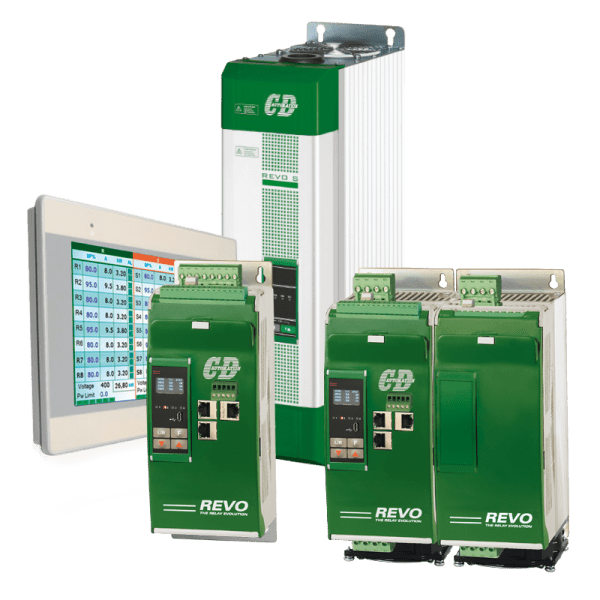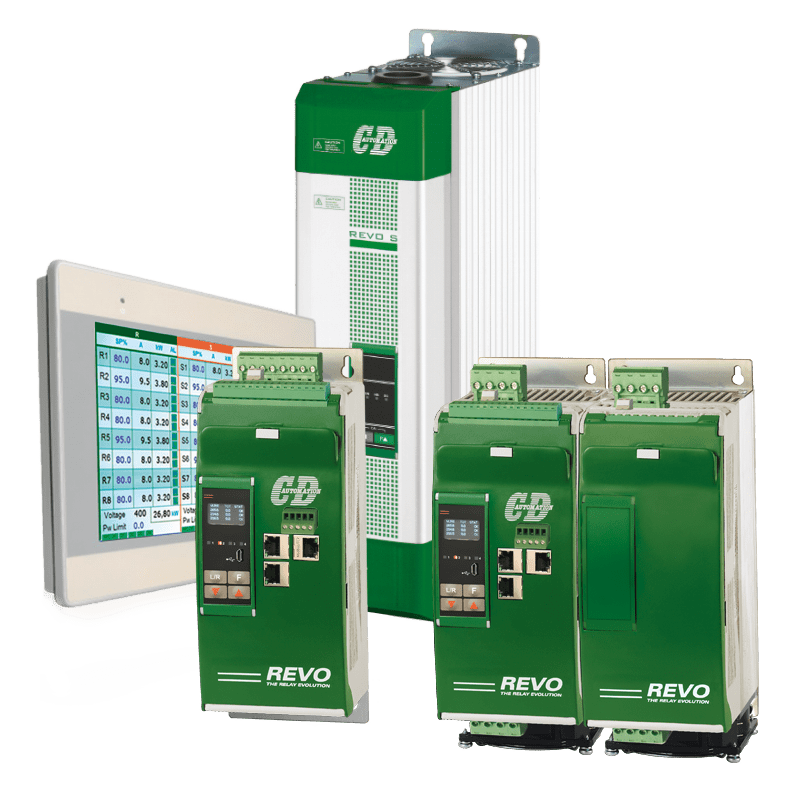 Multi-Zone Power Controllers
Do you need to control multiple heating zones seamlessly from one unit? Would optimising power to save energy be of interest? Then our range of multi-zone power controllers could be the solution you're looking for.
Improved power quality
Less cable wiring
Space saving
Easily connect with your system
Overview
Product Videos
FAQs
Description
Overview
Available in a number of packages with current sizes from 3 amps to 800 amps, the CD Automation range of multi-zone power controllers combines precise temperature control with energy saving power optimisation.
Catering for both the simple electrical heat process on packaging machines, through to the more sophisticated short wave infrared paint spraying car production line, we have the perfect solution to your multi-zone, multi-channel power control needs.
Benefits
Save costs with a total solution in a single package – reduces wiring by up to 70% compared to single stacks, cabinet dimensions by up to 80% and a reduction of commissioning times by 20%
Cut your energy bills – restrict current peaks by automatically sychronising multiple zones and distributing your power demand across your whole system
See what's happening fast – smart diagnostic functions immediately detects and localizes errors in the load circuit with the support of the extensive TIA diagnostics system
Simple connection to your system – connect seamlessly with your management software with the most popular Fieldbus systems
Features
Designed specifically for normal resistance heating elements and short/medium wave infrared lamps, the REVO-PN & PC can control both multiple single and 3 phase loads.
Multiple Transformer & inductive plus variable resistance loads are handled withthe REVO-TH power unit.
Firing modes include Simple Burst Firing and Half & Single Cycle Firing plus Dynamic Burst Firing, Half Cycle and Single Cycle with Sychronisation, Delayed Triggering & Phase Angle with or without Soft Start
Fieldbus Comms options include Modbus TCP, Modbus RTU, Profinet, Profibus & Ethernet IP
Resources
Product datasheets and manuals can be found under the Documents & Manuals tab above.
Suitable for Load Types
Normal Resistance
Short, Medium and Long Wave Infrared Lamps
Inductive (Transformer Primary)
Cold resistance and SiC element load types (single phase only)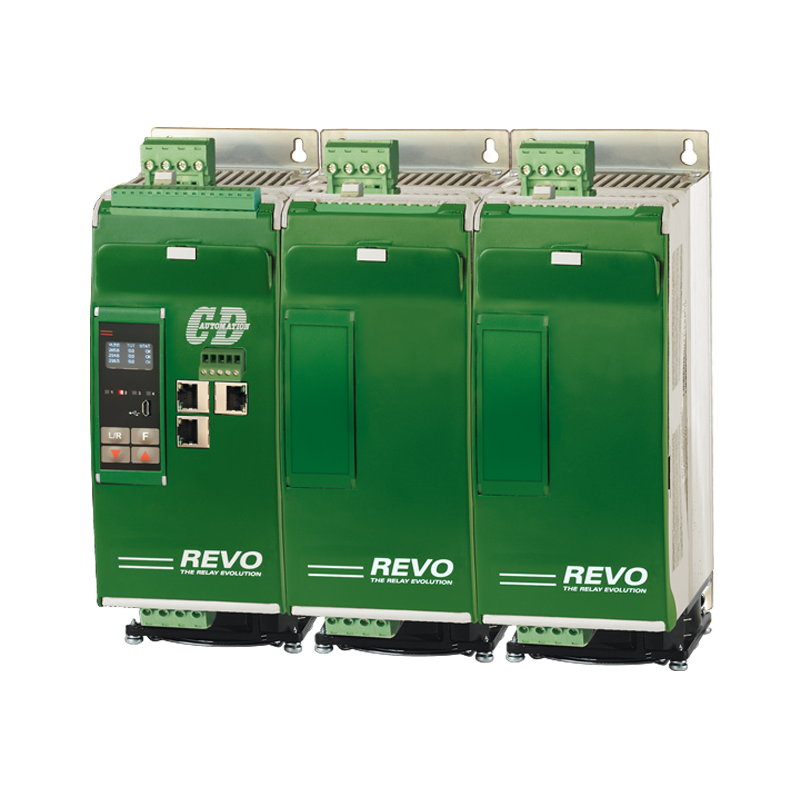 REVO-PN Multi-zone Thyristor Power Control System
| | |
| --- | --- |
| Load Types: | Resistance, Short Wave IR |
| 1 Phase: | Up to 24 Single Phase Zones |
| 3 Phase: | Up to 8 Three Phase Zones |
| Type:  | Thyristor Power Controller |
| Current range:   | 25A |
| Max Voltage:  | 480V |
Burst Firing, Half/Single Cycle control
Each loop's process information is managed independently
Diagnostics of SCR temperature, SCR short circuit, open fuse
Calculation of instant current and RMS Voltage, Current & Power
Calculation of load resistance with Heater Break Alarm
Modbus Master, Modbus slave, Profibus DP, ProfiNet, Modbus/TCP and other Field bus systems
Voltage swing compensation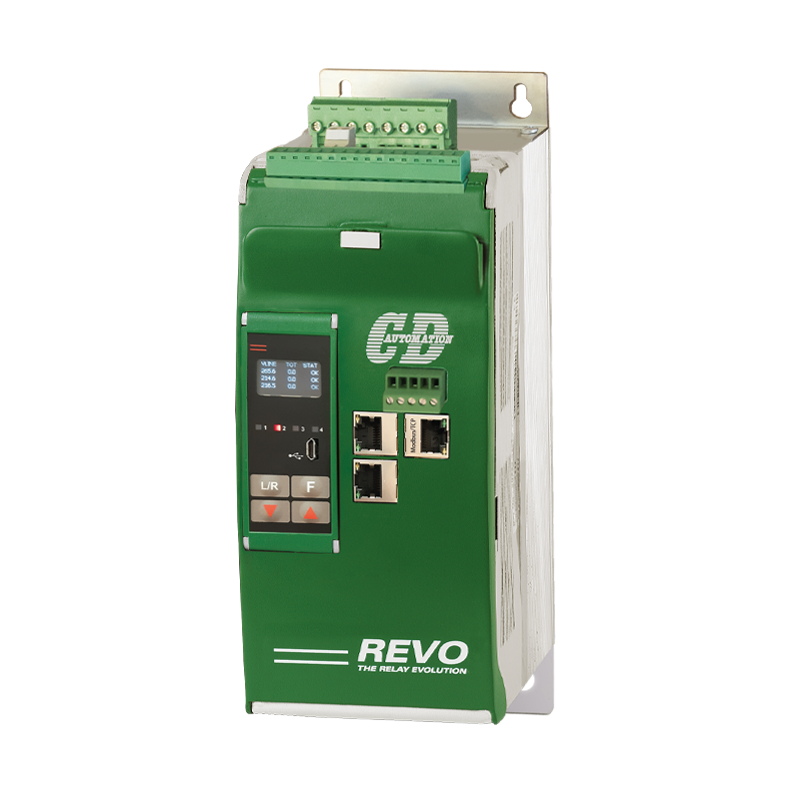 REVO-PC Multi-zone Thyristor Power Management System
| | |
| --- | --- |
| Load Types: | Resistance, Short Wave IR |
| 1 Phase : | Up to 24 Single Phase Zones |
| 3 Phase: | Up to 8 Three Phase Zones |
| Type:  | Thyristor Power Controller |
| Current range:   | 3.5A to 800A |
| Max Voltage:  | 480V |
Burst Firing, Half/Single Cycle control
Each loop's process information is managed independently
Calculation of instant current and RMS Voltage, Current and Power
Calculation of load resistance with Heater Break Alarm
Modbus Master, Modbus Slave, Profibus DP, ProfiNet, Modbus/TCP, Ethernet IP and other Field bus systems
Elimination of power overshoot
Power factor close to one due to zero cross firing
Keeps your instantaneous power within the limit of your electricity supply contract
Prevents increases in energy supply tariffs imposed by your electricity supplier
Quick return on your investment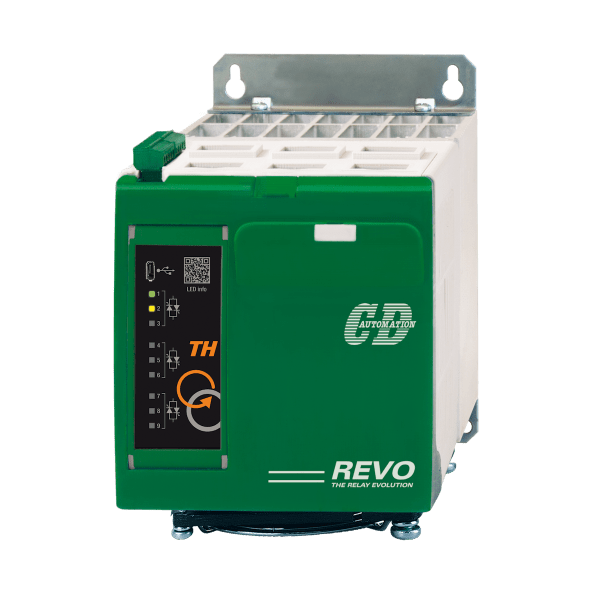 REVO-TH Multi-zone Thyristor Power Controller
| | |
| --- | --- |
| Load Types: | Resistance, Inductive, Short Wave IR, MoSi2, SiC |
| 1 Phase: | 3x Single Phase Zones |
| 3 Phase: | None |
| Type:  | Thyristor Power Controller |
| Current range:   | 35A to 90A |
| Max Voltage:  | 480V or 600V |
Burst firing, Single/Half Cycle, Phase Angle, Delayed Triggering
Three independent single-phase thyristor power controllers
Fixed high-speed fuses
Control modes include V, I, V2, I2 & P
Input signal changeable from front panel, no link jumper change required
Two analog and two digital inputs
Load and SCR diagnostics
Current limit function
Synchronization circuit
HB alarm
Alarm outputs
High precision current transducer
Monitoring of RMS voltage, current and power
REVO-C Thyristor Power Controller Overview